Reading Time:
7
minutes
This blog has not been big on list type posts, but being the new year and all, I thought it would be appropriate to put together a check list of sorts for those that want to improve their financial situation in 2017 and beyond. The reality is that if you don't take action now, you likely won't take action later.
Remember that building wealth in order to achieve financial freedom is the direct result of simple disciplines made consistently over time.
Notice that these are not goals, the list to follow will be 10 EASY ACTIONS you can take to put your financial house on a solid foundation. And I chose 10 purposely, because as this goes to press, there are only 10 months left in the year (with about 8 days left in February). This means I am making it super easy, you can take one action a month through the end of the year.
And guess what? Nothing on the list will take you more than an hour to complete. That is 4% of your day or just 0.14% of your month. You can spare that kind of time, right?
And for the super ambitious, this list is so easy, you could probably knock all 10 out in about 4 hours OR LESS.
Let's move on to the list.
10 Financial Steps You Must Make in 2017
1. Track Your Net Worth
You have to track the things you want to improve. There is a famous saying in business philosophy that I believe is just as relevant in our personal lives and that is:
---
"What gets measured, gets managed." – Peter Drucker
---
There is so much POWER and TRUTH to this quote. The first thing that tracking does for you is give you a baseline to improve from (we all have to start from somewhere). This is super important, because you need to know where you've been, in order to figure out the path to where you want to go.
---
"The simple act of paying attention to something will cause you to make connections you never did before, and you'll improve in those areas – almost without any extra effort." – Sebastian Marshall
---
How does this apply to Wealth Building?
Building wealth is a numbers game and you have to keep score. Do you want to be a millionaire? Of course you do! I personally want to be a millionaire several times over. And guess what I'm doing that you should be doing?
TRACKING! (you can see my history here)
Yes, you need to track all of your financial accounts. You need to track your income. You need to track your spending. You need to track your assets. You need to track your liabilities. You need to track your investments. Track, Track, Track…
It sounds laborious I know. But it's the only way.
I do have good news for you though. Tracking has gotten a lot easier with advancements in technology. And the best tool that I've found to automate my tracking is Personal Capital (it's FREE). Below is a screenshot from my personal account, where I have aggregated over 20 different financial accounts.
Personal Capital allows you to aggregate your entire financial life in one account. All you need to do to see all your accounts in one place is log in to Personal Capital and voila! But it doesn't stop there. They even automatically classify all your income and expenses for you. You get a FREE, fully AUTOMATED tracking system!
2. Increase Your 401K Contribution & Work Towards Maxing It Out
Are you leaving money on the table? At the very least you should be contributing enough to get the full match that your employer offers. If you employer provides a match of up to 6% of your income, you should be contributing at least 6%. So, if you are reading this and your contributions are set at 3% of your pay, leave right now and go increase it to 6% (seriously, go do it now). Even if your company only matches 50% of every dollar your contribute, that is a 50% guaranteed return, something you will not find in any investment that exists on earth (or the universe).
Some of you reading this might be thinking, come on GYFG, I am already doing this. Give me something more challenging than this.
To that I say, good on you, but there is still much work to be done. If you're already taking advantage of the full match that your employer offers, then you need to step up your game in order to work towards maxing out that 401K. The contribution limit is $18,000/year. I encourage every reader of this blog to aim towards maxing our their 401K as soon as humanly possible. The earlier you do this, the easier it becomes.
I often recommend recent college graduates to do this as soon as they start their first job. The reality is that you're likely earning way more money than you were while going to school, and if you can develop this habit early, it is something that your net worth will thank me for later.
Look, the average starting salary based on 2015 statistics, is $50,651, so maxing out your 401K would mean contributing 36% of your income. Leaving you with $32,651 before taxes. You're probably only going to pay about 15% in taxes (if you live in Ca, less in other states across the USA). That still leaves you with $27,753 in living expenses or about $2,300/month.
You can do it!
3. Open a Brokerage Account (IRA or After-Tax Account)
Depending on where you are in life, you may be maxing out your 401K already, and you may have some additional funds that you're ready to invest elsewhere. Look, I'm not even telling you to fund the account right away. In this step, you're just opening up a brokerage account.
I recommend TD Ameritrade, which is the brokerage I personally use (and have been using for almost 10 years now). Let me tell you why I love them so much:
They have what I believe to be the BEST retail investing platform (in the world). It's so easy to use.
They have over 100 ETF's that you can invest in for $0 Commission (yep, that is FREE 99).
Oh, and 32 of those ETF's that are commission free are part of the Vanguard family (yep, those funds with the lowest fees that all the PF bloggers rave about online).
There is a ton of FREE education provided.
So, go open up an account now.
4. Apply For A Cash Rewards Credit Card
Are you leaving FREE money on the table? Why not get paid for the spending that you're already going to do anyways. In 2015 I published a post about the extra ~$2,000 in CASH rewards I earned.
In 2016, I have earned close to $6,000 in cash rewards, from new credit card bonuses and cashing in my rewards. Actually, I just published a post documenting how I EARNED ~$3,500 from the new Chase Reserve Card (which is now closer to $5,000 since publishing that post). This took me all of about 10 minutes, which works out to an effective hourly rate of ~$15,305 or $32.8M per year (net of the annual fee and based on the original $3,500 I outlined in the post linked above).
Do I have your attention now?
5. Automate Everything
We covered this one a little bit in number two above, since your 401K contributions typically come out of your pay automatically every pay period. But there are plenty of other things you can automate in your financial life.
Automate your credit cards, by setting them to auto pay (bonus points if you set it to pay the statement in full every month).
Automate your monthly mortgage payment.
Automate all of your recurring monthly payments, using the bill pay feature offered by your bank.
Automate transfers to investment accounts (like the one you opened up in #3 above).
Automate, Automate, Automate!!!
6. Ask For A Raise
There have actually been studies done that show that those people that ask for more money…make more money!
You might be thinking, but I just got a 2% raise, how can I go and ask for more money? If your reading this blog, your likely an over achiever, which in my opinion means your have likely provided more than enough value over the course of the last year to demand a raise much higher than 2%.
Don't settle for 2-3% raises!
7. Buy & Read "The Slight Edge"
This book, more than any other, has made a HUGE impact in my life. I have probably given away at least 25 physical copy's of this book, and have recommended it over 100 times in person (thousands if you count this blog).
Do yourself a favor and go buy a copy for yourself here
.
Actually, if we get at least 50 comments on this post, I will choose 5 people at random to send a FREE copy. This is my way of encouraging you to not just read and scroll, but to participate in the conversation.
8. Buy Discounted Gift Cards
Do you like paying less than face value for the money you were already going to spend? Of course you do!
If you are already going to spend money at a particular place (restaurant, retail store, grocery store, etc), why not get a discount. About 2 years ago, we found Raise, and online market place for purchasing discounted gift cards. As you may know from reading our monthly financial reports, we spend a lot of money on eating out, so we regularly buy discounted gift cards to the restaurants we either frequent regularly, or ones we know we are going to soon.
We tend to find gift cards marked down by 10-20% to the places we were already going to spend money at anyways. There is a post coming on this, but just recently we picked up $7,000 worth of Lowe's gift cards for about $6,300 for a home improvement project (we laid wood tile on the entire bottom floor of our house).
It's likely you have places you frequent often, why not get a discount on all your future purchases by getting some discounted gift cards? There are thousands of vendors to choose from. Check out Raise to save some money.
9. Check & Monitor Your Credit Score
Your credit score plays a huge role in your financial life when it comes to obtaining the financing you need throughout your financial life. Almost all of us will need a mortgage at some point and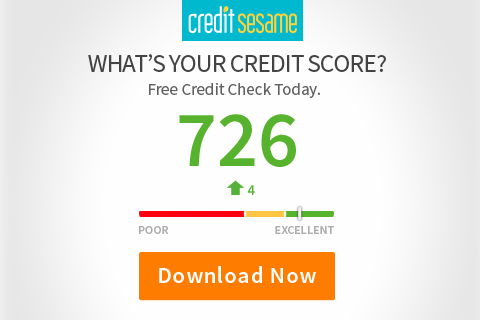 time. You also need a solid credit score in order to get approved for credit cards (the only way to get those lucrative sign up bonuses and cash back programs mentioned in #4 above).
These days you can check and monitor your credit score for free.
I recommend you check out Credit Sesame, which comes with the following FREE benefits:
Free Credit Score and Monitoring
Free Identity Theft Protection – your protected with up to $50,000 for FREE.
Stay Informed with Real-time Monitoring & Alerts (Remember #5 above? Automate, Automate, Automate)
Get Powerful Insights Into Your Finances
Manage Your Credit and Loans in One Place
See How Your Finances Measure Up Over Time
Opportunities To Save Money
It only takes 90 seconds to sign up for a FREE account. How can you pass up the $50,000 identity theft protection???
10. A Financial Move Of Your Choice
This could be looking into refinancing your mortgage to take advantage of a lower rate. This could be finally paying off those student loans. It could be paying off your credit cards. It could even be putting together a plan to eliminating all the debt in your life.
It could be putting together an Emergency Fund and working towards saving 6 months worth of living expenses. It could be setting up a will.
Really the possibilities are endless and likely unique to your own financial goals and current financial situation.
– Gen Y Finance Guy
---

Personal Capital
allows you to aggregate your entire financial life into one account. All you need to do to see all your accounts in one place is log in to Personal Capital and voila! But it doesn't stop there. They even automatically classify all your income and expenses for you. You get a
FREE
and fully
AUTOMATED
tracking system!